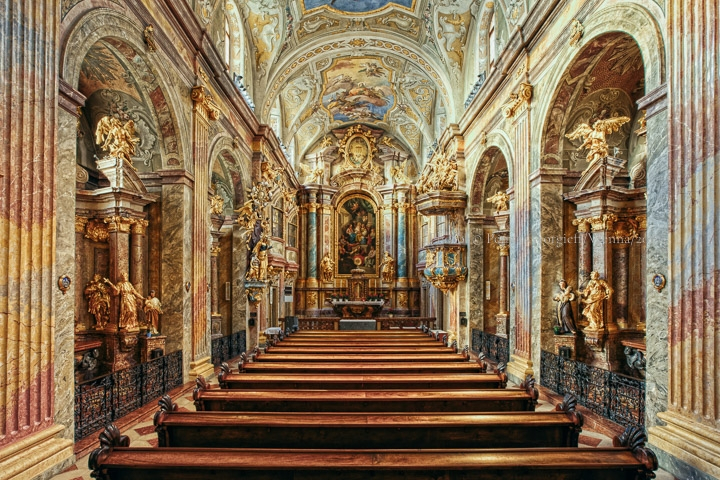 Mozart, Beethoven & Schubert in der St. Anna Kirche
Thu, 01.03.2018 - Tue, 20.03.2018
St. Anna Kirche, Wien
The Church will be heated!
Mozart, Beethoven & Schubert in der St. Anna Kirche
Thu, 01.03.2018 - Tue, 20.03.2018
St. Anna Kirche, Wien
The Church will be heated!
dates
list view
Info
The concert cycle "Classic Exclusive" enriches Vienna´s cultural calendar with musical works by the great composers of classical music, many of whom used to work and live in Vienna. A string ensemble, consisting of graduates from some of the most famous conservatoires in Europe, who perform in the renowned Viennese orchestras and participate currently with immense devotion in this musical cycle, delights the audience with works by Mozart, Bach, Haydn, Beethoven et al. The fine selection of works emphasizes the imperishability of the Viennese classicism.
The venue- St. Anne's Church- is located in the heart of Vienna, representing an architectural masterpiece in itself with its splendid acoustics and the unique Baroque ambience. On this way it guarantees an unforgettable evening and completes the exclusive experience.
Programm
W.A. Mozart (1756-1791)
KV 546 Adagio & Fuge
Franz Schubert (1797-1828)
op. 29 D 804 "Rosamunde"
Ludwig van Beethoven (1770-1827)
Streichquartett/stringquartetN. 11 op. 95
Organizer: Classic Exclusive
information about venue
ticket hotline: +43 1 58885