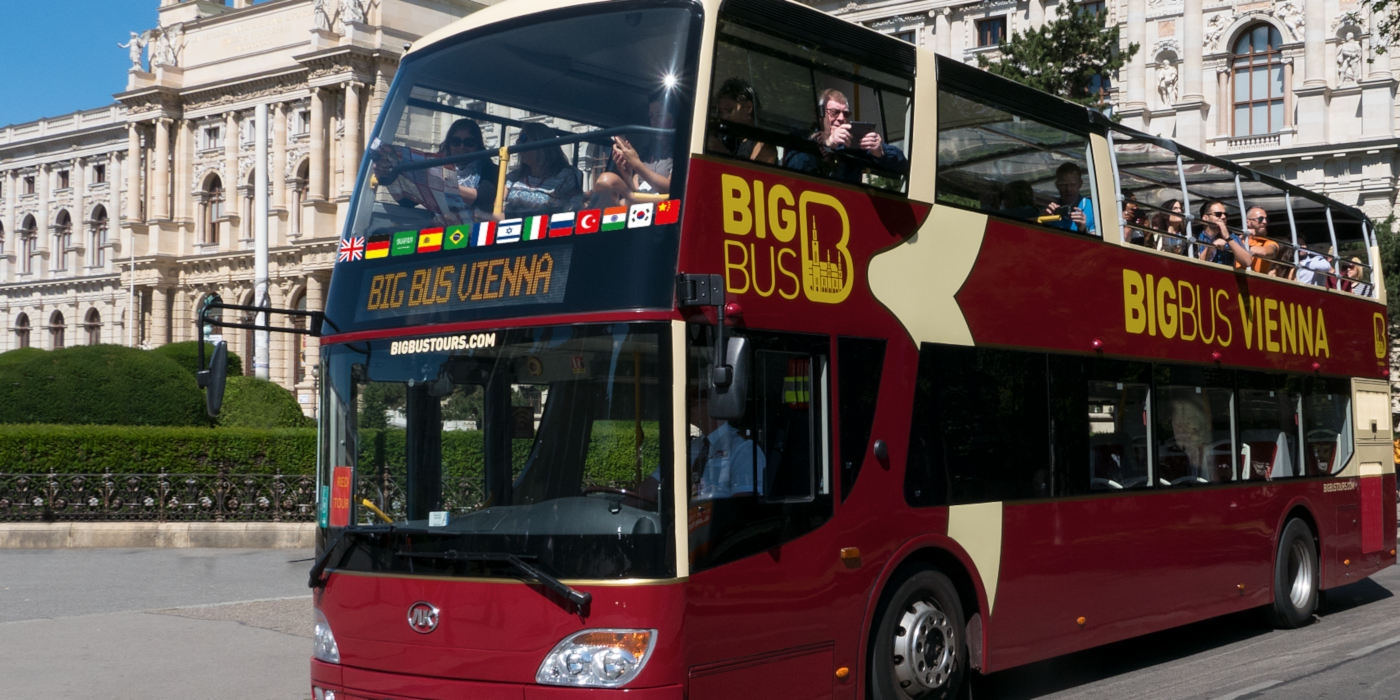 BIG BUS Vienna
Vienna's Sightseeing Tour
Big Bus Vienna is currently not operating due to the decree of the Austrian government in connection with the corona virus (Covid 19).
Info
Soak up the sights of the impressive buildings, including the Vienna State Opera, St Charles's Church and St Stephen's Cathedral. Hop off the bus to take a closer look at these magnificent landmarks and to explore the city's beautiful open spaces, like People's Park.
Classic Ticket
Our Classic Ticket allows you to see all of Vienna's top sights and attractions along our 2 routes in 1 day. Ride the open-top sightseeing bus for 1 day, hopping-on and off at over 20 stops around the city.
Premium Ticket
Premium Ticket allows you to explore the city's most important sight within 2 days along our 2 routes. Enjoy a personal guided walking tour and a live guided panoramic night tour, included free with your ticket.
See the best of Vienna on our two sightseeing routes.
Your ticket entitles you to hop on and hop off both our Red City Route & Blue Schönbrunn Route as much as you like within our hours of operation throughout your ticket's validity period.
Hop on our Vienna Red Route bus tour to discover the city's most famous landmarks and attractions, from Votivkirche and the MuseumsQuartier to the Blue Danube. You can hop on and hop off the bus from 16 different stops. Pre-recorded commentary is available in 13 languages, and you can change to the Blue Route Schönbrunn​ bus tour at stops 2 – 4.
Hop on our Vienna Schönbrunn Blue Route Vienna bus tour to discover the architectural highlights of Vienna's imperial history, including Schönbrunn​ Palace, Belvedere Palace and Arsenal. You can hop on and hop off from 9 different stops. Pre-recorded commentary is available in 13 languages, and you can change to the Red Route bus tour at stops 1, 8 and 9.​
Premium ticketholders have special access to the Hundertwasser Tour (Green Route), a unique cabriolet minibus tour to Hundertwasserhaus, the famous expressionist apartment building designed by artist Friedensreich Hundertwasser. On the bus tour, digital commentary will share fascinating facts and stories about route Stadtpark, Wiener Konserthaus, Danube canal, Austrian music and Hundertwassser himself. Tours depart from Albertinaplatz (near Stop #1) every hour between 10:00am - 3:00pm and take 20 minutes each way.
Guided Walking Tour
Free with your Premium-Ticket.
The City Walk introduces you to the lives of the Habsburgs and touches on some of the city's famous composers. The City Walk is led by an entertaining and informative guide, providing insight into the area's history and culture. Tours depart from Stop 1: Opera at 11:30am, and last for 90 minutes. Available in English.
Buy your ticket and explore Vienna at your own pace!
*The following languages are available:
English
French
German
Italian
Spanish
Brazilian Portuguese
Chinese
Arabic
Turkish
Korean
Hindi
Hebrew
Russian
information about venue
ticket hotline: +43 1 58885
Video
Big Bus Vienna
Big Bus